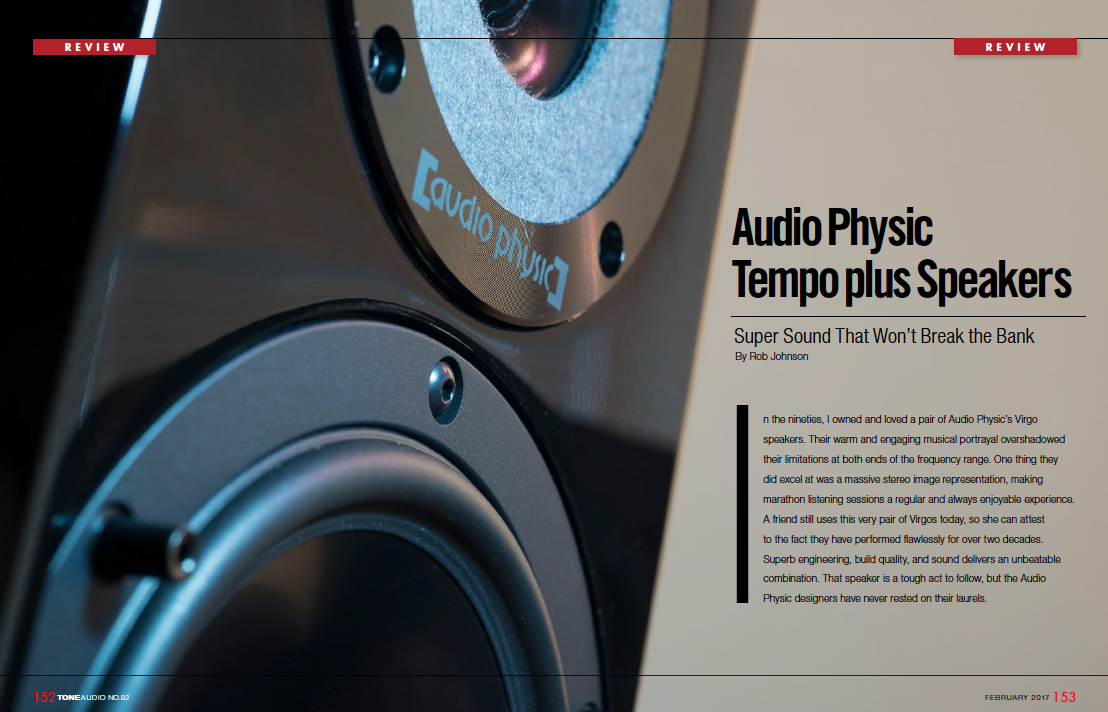 "Take a bow
If it's not obvious by now, let me just say it. I'm a big fan of the Tempo plus speakers. For all the musical satisfaction Tempo plus delivers at $5,995 they represent a terrific value. They offer fantastic sound; they image exceptionally well, and their forgiving sonic signature will mate well with a variety of components. As better upstream gear trades in and out, these speakers have the potential to rise to the challenge and deliver the musical goods. If you are seeking speakers in this price range, be sure to audition the Audio Physic Tempo plus. Once you do, you may find these speakers in your home for many years to come."
En nyhet hos oss på Stylus är den tyska högtalartillverkaren Audio Physic. Vi blev mycket glada när de valde att ge oss förtroendet att representera detta klassiska högtalarmärke. Audio Physics högtalare har sedan vi hörde de första Virgo varit ett märke som vi alltid har respekterat och älskat. Högtalarna har en perfekt balans mellan precision och musikalisk rikedom och målar upp en enorm ljudbild. Samtidigt har de den unika förmågan att ge instrument och röster en naturlig kropp och klangrikedom. Något som i vår mening ofta bara uppnås hos de allra mest exklusiva högtalarna. Audio Physic levererar musikalisk glädje och insikt i skapandeprocessen genom hela deras sortiment.
Deras löfte – "No loss of fine detail" är inte tomt. Det är något de har lyckats leverera på i mer än 25 år.
Titta gärna närmare på vad vi anser vara världens smartaste protractor för inställning av tonarmsgeometri.
Nu har vi den Nordiska distributionen för en av världens bästa hörlurar Audeze.
"Audeze creates acclaimed headphones using unique planar magnetic technology, combined with precision USA manufacturing and individual characterization for exceptional quality."
Ljudet är stort, organiskt och levande, utan att tappa den precision och känsla av sammanhang som gjort Nordost världsledande. Hemligheten är att Nordost nu skrotar kabel + kontakt filosofin. Valhalla 2 och HOLO:PLUG är att betrakta som en komponent. Både kabel och kontakt tillverkas under samma tak och är optimerade för varandra. Resultatet är fantastiskt.