Byggda för musik, designade för dig.
Sedan 60-talet har Spendor byggt några av världens mest kända högtalare. Högtalare för musikälskare som kanske inte har det perfekta rummet, eller förutsättningar att placera högtalarna hur de vill. Spendor designar sina högtalare för moderna hem och moderna musikälskande människor, utan att kompromissa med sitt arv. Idag bygger Spendor så gott som allt för hand i England. Låt musiken fylla ditt hem!
"As if custom-made for me, the pair of Spendor A7s was the perfect fit for my smallish listening room. Everything they touched came out clear and lucid, and bass frequencies were especially tuneful, tight, and extended. I found very little to fault in the A7 and much to love, most notably its palpable and authentic presentation of everything from Willie Hutch's grooving soul to Dave Holland's aromatic, straight-ahead jazz."
Ken Micallef, Stereophile
SME bygger några av de finaste skivspelarna och tonarmarna i världen. Anledningen är att de är de enda som kan. De flesta andra sätter ihop produkter av delar som andra har tillverkat åt dem. Det duger inte för SME. Deras krav på perfektion går bortom allt annat vi har sett. Varenda skruv är tillverkad med toleranser som andra skulle vara stolta att deras lager håller. Så när en produkt är färdig och monterad så har den en så hög mekanisk integritet att den upplevs som att den är fräst ur ett enda stycke. Det är nästan poetisk att hålla i en SME-produkt. Men den verkliga poesin uppenbarar sig när man sänker ner nålen i spåret. Då inser man varför de bygger så kompromisslöst som de gör.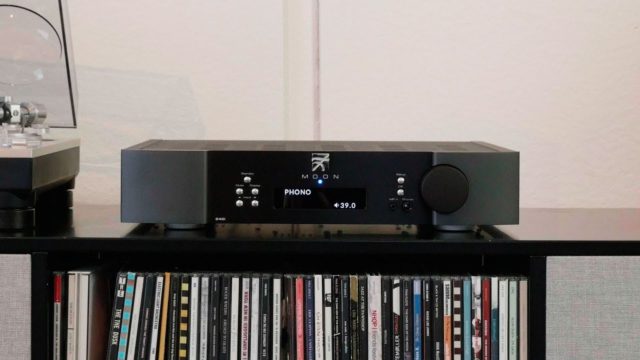 Det er også verdt å nevne lydkvaliteten på den innebygde digitalkonverteren. Den er rett og slett skyhøy. Sammenlignet med min egen referanse, så er likhetene langt flere enn ulikhetene. Den mangler litt bass-trøkk helt i bunnen, og har ikke fullt den samme roen i gjengivelsen, men bortsett fra det er det detaljer, luft og klang som jeg ærlig talt ikke hadde ventet å finne i en forsterker i denne prisklassen. Faktisk knapt nok i en egen digitalkonverter til denne prisen. Den innebygde konvertere er et råskinn… MOON 240i är en utrolig vellydende og potent kombinasjon av integrert forsterker og digitalkonverter. Dette viser at du ikke trenger å rane banken for å få fantastisk lyd.
Neo 230HAD är en ny hörlursförstärkare, DSD DAC and och förstegi en liten snygg låda med all den musikalitet som har gjort MOON till en av de mest älskade high-end-tillverkarna i världen.
En nyhet hos oss på Stylus är den tyska högtalartillverkaren Audio Physic. Vi blev mycket glada när de valde att ge oss förtroendet att representera detta klassiska högtalarmärke. Audio Physics högtalare har sedan vi hörde de första Virgo varit ett märke som vi alltid har respekterat och älskat. Högtalarna har en perfekt balans mellan precision och musikalisk rikedom och målar upp en enorm ljudbild. Samtidigt har de den unika förmågan att ge instrument och röster en naturlig kropp och klangrikedom. Något som i vår mening ofta bara uppnås hos de allra mest exklusiva högtalarna. Audio Physic levererar musikalisk glädje och insikt i skapandeprocessen genom hela deras sortiment.
Deras löfte – "No loss of fine detail" är inte tomt. Det är något de har lyckats leverera på i mer än 25 år.
Titta gärna närmare på vad vi anser vara världens smartaste protractor för inställning av tonarmsgeometri.