"A lot of this comes down to the Essence duo's remarkable combination of leading edge performance, powerful dynamic range, excellent detailing, and that aforementioned authority. Music is vibrant, visceral, and red in tooth and claw."
Alan Sircom, hifi+
"The Brinkmann is that rarest of rare breeds in audio, a turntable for the lover of music who believes, as I do, that not only are musicality and high resolution not incompatible with one another, but that high resolution is a precondition of musicality."
6moons audio
"Some will never get past the price, but the fact remains that the Aesthetix Io Eclipse is the best phono stage we've ever heard"
What Hi-Fi
"To get this kind of natural timbral warmth, weight, power, resolution, extension, and top-to-bottom seamlessness in such a small, stylish package is rare, indeed."
Jonathan Valin, The Absolute Sound
"..the list of the best amps I had heard regardless of price or technology… And now at the top of that list sits the VTL Siegfried II" 
Marc Mickelson, The Audio Beat
"YG Acoustics Sonja XV stands as the finest and by far the most accomplished loudspeaker I have yet heard, and by no small margin at that."
Chris Martens, hifi+
"A superbly balanced and beautifully judged design, this is the best Spendor yet – and that's no mean feat."
Roy Gregory, hifi+
"This is one fabulous piece of equipment. No other entry-level phono preamp I've heard betters its design, its construction, or, most important, its sound."
Soundstage
"Frey 2… has rebalanced the scales, taking the transient and micro-dynamic elements of the past and integrating them with richer mids and a brawnier, meatier bottom end that gives orchestral music more discernible, atmosphere and weight. In a word, there's more fidelity to the live event." 
Neil Gader, The Absolute Sound
"The Prime turntable/arm combination is one of the most likable record players we've heard in recent years. Don't buy any rival until you've heard this"
What Hi-Fi
Välkommen till Stylus audio
Vi importerar och distribuerar några av de bästa hifi-produkterna på marknaden. De flesta av produkterna finner du hos någon av våra kunniga och återförsäljare runt om i landet.
Ett mindre antal varumärken erbjuder vi för hemlån och provlyssning i vårt eget showroom i Stockholm.
Välkommen att fråga om allt ifrån hur man justerar en skivspelare, till hur du placerar dina högtalare. Inga ämnen är tabu hos oss. Oavsett om du vill prata om strömförsörjning, musik, pickupinställning eller NOS-rör så är du alltid hjärtligt välkommen till oss!
YG Acoustics Peaks Series
Musikalitet, precision och ärlighet till det musikaliska materialet har varit det viktigaste när man utvecklat Peaks Series. Med Peaks har YG Acoustics också lyckats kapa kostnader utan att kompromissa med de kännetecken som gjort deras högtalare så framgångsrika genom åren. 
Serien består av 2 stativhögtalare, 3 golvhögtalare och en aktiv subwoofer för att passa varje rum och användningsområde. Målet har varit att skapa en ny referens i prisklassen med en design som smälter in i de flesta inredningar. 
Det som skiljer Peaks från deras mer kostsamma bröder är framförallt kabinetten som är byggda i en komposit av fiber och resin. De har simulerats noga i en av Europas kraftfullaste datorer och provlyssnats i tusentals timmar för att få fram ett nästan lika resonansfritt kabinett som i de större modellerna. Baffeln som elementen är monterade i är fortfarande frästa ur ett stycke aluminium av högsta kvalitet. I övrigt så är elementen, delningsfilter och komponenter i samma kvalitet som YG är kända för. Peaks väntas dyka upp under tidig vår.
Experternas omdömen och betyg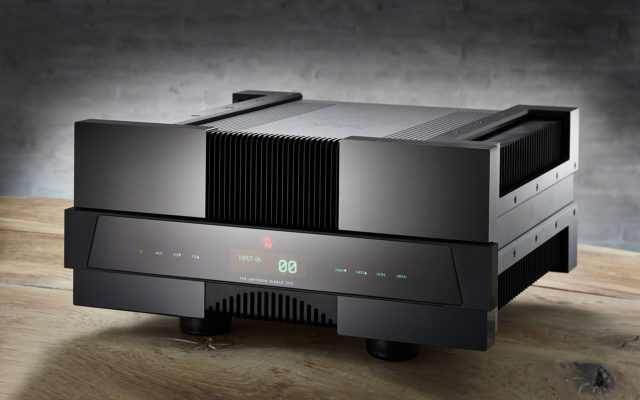 "The cinematic soundscapes of In a Time Lapse from Ludovico Einaudi's CD release illustrated the Gryphon's valve-like handling of tonal colours. This recording is rich with piano, violin and guitar, among other acoustic instruments, and the Diablo 300's reproduction of the beautiful and moving compositions displayed natural and complex midrange timbre, with all the instruments having a sense of presence both in terms of transparent verisimilitude and that hard-to-describe sense of body… of image gravitas. That midrange kinship with the very best of valve amplification is something rather extraordinary for a solid-state amplifier – an integrated no less."
… so far, the Gryphon Diablo 300 is unequivocally, and by a wide margin, the best integrated amplifier ever to grace our audio testing and music-listening environment."
The Diamond Anniversary Synergy is a celebration and demonstration of precision engineering, traditional craftmanship and audio excellence at its best.
SME are proud to enter our 75th anniversary year in 2021 as the world's finest turntable and tonearm manufacturer. 75 years on we continue to deliver on our status as a highly respected and iconic British brand, founded by audio legend Alastair Robertson-Aikman in 1946.
The Diamond Anniversary is a significant milestone in the long history of SME with many great achievements made and still being made from inception in 1946 to becoming a premier and unique high end audio company today.
In celebration of our illustrious past and exciting future this exclusive Diamond Anniversary turntable is developed from the award winning and highly acclaimed Synergy. The Diamond Series Synergy is machine finished to demonstrate the definitive precision, sharp lines and creative cosmetic profile. The hand finished fine detail is an expression of the handcrafted skills that SME is famous for. The black chrome contrast highlights and compliments this distinctive audio engineering masterpiece.